Details
Currency Pairs: AUDUSD
Timeframe: H1
Price:

$265

License: 1 real + 3 demo
NFA compliance: yes (with the long term advanced strategy disabled)
Refund policy: Not specified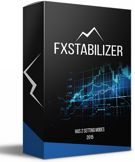 Strategy: Martingale/Grid, uses an indicator to enter first basket trade, trades 9x baskets and has a turbo and durable mode.
Performance
Here is the vendor account of FXStabilizer trading their durable mode, which is on a real account at Forex4You broker. It's been running since Feb 2013 and does roughly 7% per month with a 39% drawdown. However you will notice the graph starting to taper off, this is because the vendor has recently lowered the risk drastically to preserve the life of this account to keep sales coming in. It went from 8-10% per month down to 1-3% per month.
Pros & Cons

Cons
No refund policy
Martingale (dangerous)
There are better EA's that do the same thing
FX Stabilizer is just another martingale EA with much less to offer trading only AUDUSD. There are much better EAs available that do the exact same thing and more. You would be an idiot to buy this over
Flex EA
.