Details
Currency Pairs: AUDUSD | EURJPY | AUDCAD
Timeframe: Any
Price:

$799

(or $347 per month for 3 months)
License: 1 live account
NFA compliance: yes
Refund policy: 60 days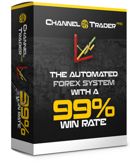 Strategy: Channel breakout using a 200 pip stoploss, averaging 11 pip winning trades. Signals are sent as a trade copier from their vendor account like Vortex Trader Pro
Performance
Another trade copier from Doug Price, very similar to his Vortex Trader Pro. Pretty sure it's the exact same EA that is sending the signals with slightly different settings. He then slaps another name and price tag on it and voila, more money in Doug's pocket.
This is a customer live account trading Channel Trader Pro on ProfiForex broker. It was started June 26 2015 and is has mediocre results. We'll keep on eye on this one.
Pros & Cons

Pros
60 Day refund policy
Results match vendors success for the most part
Cons
$700 price tag
200 pip SL with 11 pip TP might get you through their 60 day refund period unscathed
but this risk:reward ratio is bound to catch up to you eventually.
Channel Trader Pro and Vortex Trader Pro feel like clones of each other, with slightly different settings. If you're interested in them, just buy one not both. That being said, I am going to give my thumbs up approval for this one just like VTP, but with a sigh of caution. The risk:reward ratio is quite disturbing and I feel as though Doug's strategy may be to get you through the refund period and then you're on your own once the huge SL wipes out months of profit. I hope I am wrong but we shall see. Be careful with these types of robots guys, especially with the hefty price tag.