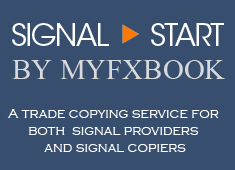 SignalStart is a trade copying service brought to you by Myfxbook.com where you can copy trades from random people that have trading systems published on Myfxbook.
The rules to apply for the service to become a signal provider and earn profit are trading period longer than 30 days, and no martingale or arbitrage. However, I still see a lot of blown accounts sitting at -99% balance. So whatever you choose to do, do as much research as possible before you let one of these systems copy trades into your account. Read the discussion on the system to see what other traders are saying about it. A lot of good information can be found in there that may explain how such a good looking system with low drawdown is actually not so pretty, or may require ridiculous broker conditions that you just won't find.
For signal providers, you can set a monthly sub rate that each trader must pay you to copy your trades, but myfxbook will take 30% of this. I have not seen if there is any kind of loyalty program where you're offered a better rate the longer you stay with them or the more subscribers you acquire, but would certainly be nice.
I will leave the floor open for the rest of you to share your experiences both good or bad with this signal copying service. Whether you're a signal provider at Signal Start or have/are copying trading systems from them, please share your thoughts in a comment below.