Details
Currency Pairs:
Timeframe:
Price:
License: 1 live account
NFA compliance: Unknown
Refund policy: 60 days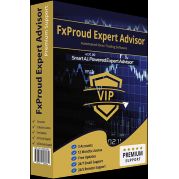 Strategy: Fx Proud EA strategy is unknown at this time. I will change this description when it is determined.
Pros & Cons
Cons
Vendor has no verified Myfxbook.com accounts
Unfortunately we don't have enough information on Fx Proud EA to be able to endorse it. While there is a small chance it could be a needle in a haystack, if it were I'm sure we would know about it by now. We are not yet sure if this is a scam or not. If you have experience with Fx Proud EA then feel free to leave a score and leave a comment with your experience.