Details
Currency Pairs: EURUSD | GBPUSD | USDCHF | USDJPY
Timeframe: M15
Price: $199 or $299
License: 1 or 2 real accounts
NFA compliance: Yes
Refund policy: 60 Days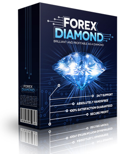 Strategy: Has 3 built in strategies you can select from or use all 3. They are scalping, trend and counter-trend. Average win is 10 pips average loss is 20 pips according to their vendor account.
Performance
This is the vendor account of Forex Diamond EA that trades on Alpari DEMO account. Yes that's right, a demo with basically a scalper, who would have thought! Any system that has an average trade size of 10 pips and is on a demo account, will not even come close to the same results on live accounts.
Here is another vendor account of Forex Diamond EA, but this one is actually on a real account. As you can see it only puts out a measly 2.2% per month and went half 2 years making no money at all. 100% of it's gain is from within the last few months so I suspect it's just on a hot streak for now.
Pros & Cons

Pros
Vendor has long term results
Fair price
60 Day Refund Policy
Cons
Doesn't perform well live
Scalper
Requires setting tweaking
I can't give a thumbs up for Forex Diamond EA, I just can't do it. It doesn't provide the credentials that you look for in an EA that gives it the potential to be successful. It will make demo money, and you may hit a hotstreak on a real account for a few weeks, but that is guaranteed to never last.